NZ Ministry of Foreign Affairs & Trade and Cure Kids announce 3-year partnership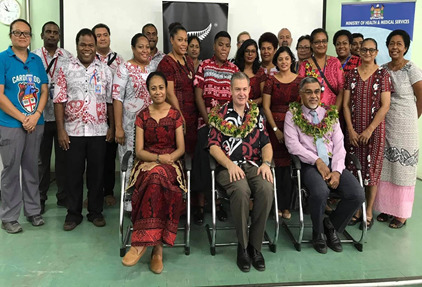 The official partnership launch with staff from Fiji's Ministry of Health and Medical Services (MHMS), NZ Ministry of Foreign Affairs & Trade, and Cure Kids.  
Front Row L-R: RHD Programme Lead Dr Jimaima Kailawadoko, His Excellency the New Zealand High Commissioner to Fiji, Mr Jonathan Curr, and Permanent Secretary for Health Dr James Fong.  
Cure Kids and the New Zealand Government have partnered with the Fiji Ministry of Health and Medical Services (MHMS) to control and prevent Rheumatic Heart Disease (RHD) in Fiji, with the NZ Ministry of Foreign Affairs & Trade (MFAT) committing NZ$3m over 3 years.
RHD is a chronic disease, caused by preventable infections. Fiji has some of the highest rates in the world. Young people and women are particularly affected, and one child in every classroom in Fiji lives with RHD.
"Prevention of RHD is a national priority for the Government of Fiji, and despite many challenges, the Ministry has been progressively addressing RHD for the past 15 years," says Permanent Secretary for Health and Medical Services, Dr James Fong. "Improving health outcomes from this disease is critical, and partnerships like this accelerate progress."
Cure Kids, with funding from MFAT, began working with MHMS in 2014 to deliver the first phase of the RHD Control & Prevention Programme with Fijian, New Zealand and Australian health experts from the Fiji National University, the University of Auckland, Auckland District Health Board, Murdoch Children's Research Institute, Telethon Kids Institute and the University of Melbourne.
"We're thrilled that MFAT is backing us to build on the success of the first phase of the programme, by supporting a second 3-year phase. The long-term goal of the partnership is to embed sustainable activities in the health system to reduce the burden of RHD, which kills more young people in Fiji than any other disease," says Cure Kids General Manager and Director of Research, Tara Satyanand.
The second phase will support MHMS to improve access to care and expand screening and treatment programmes in schools and hospitals across Fiji, including targeting pregnant women and families of newly diagnosed cases. This phase will also roll out peer support for people living with RHD and public awareness programmes focused on behaviour change to encourage treatment for RHD. Together, these activities are designed to continue development of a sustainable and effective secondary prevention programme in Fiji.
"Children are particularly hit hard by RHD, and the disease causes ongoing difficulty throughout life" says New Zealand's High Commissioner to Fiji Mr Jonathan Curr. "The New Zealand government is committed to supporting Fiji's vision of a healthy population for many decades, and this partnership with the Ministry and with Cure Kids is an innovative example."